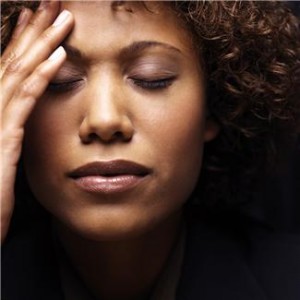 You know the feeling when it starts: an unpleasant burning in your chest or abdomen, a feeling of cold on the back of your neck, tingling in your arms, or tightness in the back of your throat. Anxiety is a physical phenomenon. Many of us are unaware of the specific physical sensations associated with our anxiety, but it sends a signal to our brain that we are in danger. On its own, anxiety tends to pass quickly and without much ado. It is the way we attribute meaning to the sensations in our body that causes anxiety to feel unbearable and to stick around. We interpret our anxiety as being "out of control." We look to our environment for signals that we really are in danger, either physically or emotionally. And we beat ourselves up for feeling anxious, telling ourselves "What is wrong with me?" "Why can't I feel calm?" And even worse, "I can't tolerate feeling this way."
But in reality, we can tolerate anxiety. By tolerating it and observing its physical manifestations, we rob it of its power over us. And over time, anxiety will diminish if we refuse to escalate it by letting it take over our thoughts.
Mindfulness is one of the most powerful tools for coping with and transforming anxiety. While it may feel like WE ARE anxious, bringing awareness to our body and choosing to focus on the specific physical sensations we are experiencing allows us to see that we are the observer of anxiety, not its victim. We can choose to halt self-defeating thoughts by returning awareness to our body and reminding ourselves "Anxiety cannot hurt me. It is only a feeling, and it is temporary. I am in control of myself. I can choose to be aware of the anxiety without letting it take over my thoughts."
Practice doing mindfulness exercises such as this one when you are not feeling particularly anxious, as a way of being ready for anxiety when it comes. Learning to focus your full attention on your body rather than your thoughts takes some practice, but only five minutes a day can make a huge difference in reducing anxiety and helping you cope with it when it comes.
Anxiety is often associated with depression, even if the depression is not severe. Taking steps to address negative patterns of thinking, grieving losses, and learning to take better care of ourselves physically and emotionally is another important step in dealing with anxiety. If you need help to learn to identify and challenge negative thoughts, work through with past trauma or loss, or learn to improve your self-care and relationships, finding a therapist you trust is a great place to start.