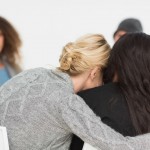 The Postpartum Emotional Recovery Circle is a support group for postpartum mothers experiencing depression and/or anxiety. These disorders, which can occur any time in the first year of your baby's life, are the most common complications of childbirth. This support group will be an opportunity for mothers to:
Connect and share support with others moms experiencing postpartum emotional difficulties to reduce feelings of isolation and hopelessness;
Learn about what causes postpartum disorders, treatment options, and self-care strategies; and
Practice coping skills (including mindfulness exercises), as well as improving their bond with their baby as they recover.
The Postpartum Emotional Recovery Circle will meets at my office in Lafayette on Saturday mornings. The group is offered in a six-week series and requires advance registration and one or more pre-group sessions, depending upon your situation.
Cost: $40 per session
To register: Call 925-385-8848 or Contact Me
You can download a brochure about postpartum disorders as well as a flyer for the group.